LEAD Retreat – Learn New Ways to Achieve Greater Impact
LEAD Retreat – Learn New Ways to Achieve Greater Impact
Are you ready to ascend to new levels in your career? Are you looking to build your network of peers across the state to share best practices? If so, learn more about CBA's LEAD Retreat, September 28-29, 2023, on Jekyll Island.
This dynamic program offers engaging speakers, networking opportunities, as well as panel and roundtable discussions. Learn how to leverage next-level practices to achieve your career and organizational goals.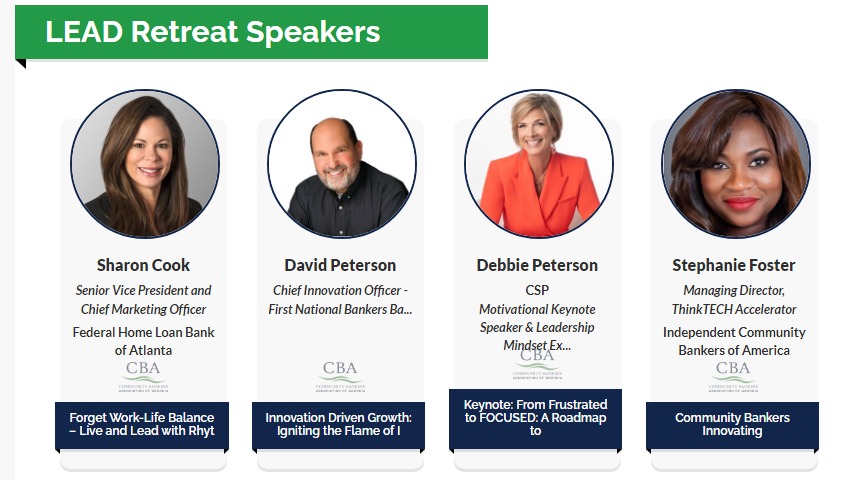 Wednesday, September 27

3:00 PM - 5:00 PM
L.E.A.D. Board Meeting *By Invitation
6:00 PM - 8:00 PM
L.E.A.D. Board Appreciation Dinner *By Invitation

Thursday, September 28

8:00 AM - 8:45 AM
Registration & Check-ins
Networking Breakfast with Sponsors
8:45 AM - 12:00 PM

Program Kick-Off & Retreat Learning Goals
Kristi Greer, CBA of GA & Debbie Peterson, Keynote Speaker

Innovation Driven Growth: Igniting the Flame of Innovation
David Peterson, First National Bankers Bank

Is your organization operating on "Auto-Pilot"? In this Innovation Driven Growth keynote, nationally recognized speaker David Peterson, Chief Innovation Officer of FNBB, will provide insights into how your organization can meet the challenges of today's competitive pressures and global competition with new processes for creativity and innovative thinking. He will share his Metacognition strategies and tools that drive innovation, which help rethink processes and procedures that stifle growth and create an environment that dramatically increase employee engagement. Combat status-quo thinking by fostering an enterprise-wide culture that capitalizes on the opportunity for transformational growth.

Key Takeaways:
• Learn the stages of the Metacognition process
• Learn how to incorporate "ThinkTime" to reap benefits focused on growth
• Learn how to train employees to identify and combat the status-quo
• Learn how to instill organization-wide innovation to achieve transformational growth

Forget Work-Life Balance – Live and Lead with Rhythm
Sharon Cook, Federal Home Loan Bank of Atlanta

Work-life balance sounds good in theory, but we all know that striking that balance can be a maddening pursuit. At times, it can feel like the circus act of balancing spinning plates on sticks. During this session, Sharon Cook will share tips to help you reframe your perspective and outlook from one of work-life balance to work-life rhythm.

12:00 PM - 1:00 PM
Networking Lunch with Sponsors
1:00 PM - 4:30 PM
Leadership Panel
Moderator: Debbie Peterson
Panelists: Sharon Cook, Jason Rooks, Stephanie Foster & David Peterson

Leadership Round Tables


Leadership Panel, Round table Discussions & Activities

Activities to support leadership growth. Submit Topics and questions to Kristi Greer -kristi@cbaofga.com

Friday, September 29

8:15 AM - 8:45 AM
Networking Breakfast & Roundtable Discussions Continued
8:45 AM - 12:30 PM

Programming Continues & Adjourns at 12:30

Navigating Innovation: Empowering Community Bankers for Future Success
Stephanie Foster, ICBA

Join us for an engaging session as we delve into the importance of embracing innovation and fostering a culture that values forward-thinking approaches. We will share practical insights on how to initiate meaningful conversations about innovation, and how to inspire collaboration among colleagues and industry peers. Prepare to be inspired, engaged, and empowered as we navigate the innovation horizon together, unlocking the potential that innovation holds for community bankers and the communities they serve.
Learning Objectives:
1. Participants will gain a comprehensive understanding of why innovation is crucial for community banks. They will explore the benefits and advantages of embracing innovation, and how it can drive growth, enhance customer experiences, and ensure long-term sustainability.
2. Learn effective strategies for promoting innovation within community banks: Attendees will acquire practical strategies and approaches to encourage and foster innovation within their organizations. They will learn how to initiate conversations about innovation, build a culture that values forward-thinking, and establish collaborative environments that facilitate idea generation and implementation.
3. Explore challenges and opportunities in community banking innovation: This session will provide a platform for community bankers to share their perspectives on the challenges they face in implementing innovation within their institutions.

Advocacy Raffle Drawing - $25 for $2500 RAFFLE


From Frustrated to FOCUSED: A Roadmap to Your Banking Career
Keynote Speaker:Debbie Peterson

Clarity & direction in a career can be elusive when we juggle so much in our lives. But what if there was an easy way to unlock your career potential and map a way to get there? THERE is!

In this highly interactive program, you will learn the powerful 5 steps to gaining unparalleled clarity and direction in your leadership and life. With Debbie's exclusive Career Clarity Process, you'll tap into a proven method for increasing focus on your professional goals while staying true to who you are. This program is designed to empower you to create momentum and achieve real, meaningful results, no matter where you are in your banking career.

Discover the essential steps to creating laser-focused clarity on what's next in your banking career.
Learn how to identify and pursue the right opportunities for the right reasons.
Cultivate the supportive community of people necessary to accelerate your careers to new heights.
Gain valuable insights into what holds you back from achieving results, and learn practical strategies to overcome these obstacles and achieve success.

---