April 4, 2022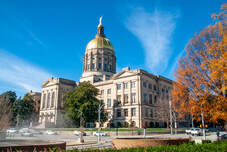 After a day full of debate, motions, votes, and emotional farewells, the House and Senate adjourned sine die in the early moments of April 5.

Measures approved by both chambers now head to the second floor of the Capitol for review by the Governor and his team. Governor Kemp has already signed more than 280 items into law this year, most of them local bills necessitated by the 2020 census and resulting local redistricting. He has forty days, until mid-May, to act on legislation from the 2022 General Assembly.

Legislators now return home and move to campaign mode. Sixteen Senators and 48 Representatives face an opponent in the May 24 Primary. A dozen others are seeking higher, statewide office. They will spend the 50 days engaging voters and raising funds.

The final days of the General Assembly are frenetic. This report represents our best effort to accurately describe relevant legislation. We will send notice should we discover an error or omission.