Legislative Days 16 – 18
Date posted
February 18, 2022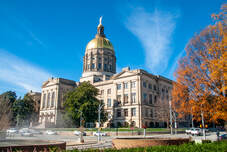 Session Approaches Midpoint
After three days in session this week, lawmakers will return to Atlanta following President's Day for legislative days 19 and 20, marking the midpoint of the forty-day session. Now entering the third quarter, lawmakers will shift their attention away from introducing bills and towards the vetting process both at the committee level and on the Chamber floors. Daily debate calendars will continue to grow and committees will continue their methodical work through priority measures.
Despite the focus on the legislative session, the political landscape is always shifting in the background. Just this week, Senator Lindsey Tippins (R), Marietta, and Representative Terry England (R), Auburn, announced they would not seek reelection. England is the Chairman of the powerful House Appropriations Committee and works year-round on Georgia's budget. Tippins serves as Chair of the Senate Higher Education Committee. In just three short weeks, the line between lawmaking and campaigning will blur even further when candidates descend on the state capitol for qualifying. Several other veteran lawmakers are expected to announce their retirement before then.