Back to Events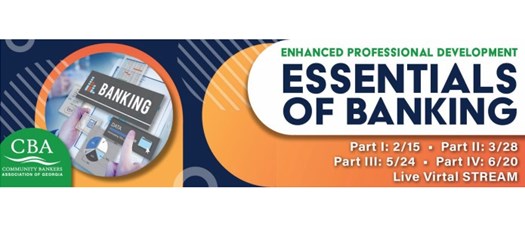 2023 Essentials of Banking: Part 3
Live Stream / Virtual
Wednesday, May 24, 2023
Event Details
This series is designed to provide a complete knowledge of banking principles and operations through a four-part series separated into two sessions.

Session 3: Credit and the Banking Business
Key Credit Products and Services

Lending Process

From Application to Decision
Loan Administration
Loan Review and Asset Recovery
Loan Policy

Key Performance Metric for Banks

Banking Business

Source of Income for Bank
Investment Function
Types of Investments
Maximizing Asset Return
Asset and Liability Management

Financial Statement

Balance Sheet
Income Statement
Understanding Performance Ratios
Analyzing Asset and Liability Mix

The Annual Report
Bank Performance Reporting

Uniform Bank Performance Report

The CAMELS Rating System
Benefits of the Series:
Establish a stronger foundational knowledge of banking in the United States

Expand banking skills and knowledge in a focused learning environment

Interact and network with other bankers in understanding the variety of banking opportunities

Improve cross functional contributions and performance as bankers

Prepare for Graduate Schools of Banking

Receive CPE credits and Certificate of Completion are available to participants

Much, much more!
Note: While it is recommended that participants attend all four sessions of the series to receive an entire overview of banking, each session's material stands alone; one session is not a prerequisite for another. if you want your team members to learn about the curriculum presented in a particular session, the program provides a thorough education and may be attended as a stand-alone class.
For More Information: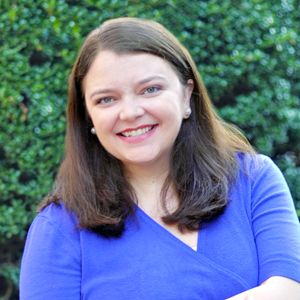 Becky Soto
Assistant Vice President
Community Bankers Association of Georgia
(770)541-4490
Who Should Attend: A must for the newer bank employee, Veterans needing a refresher, and Any and all bank staff with up to five years' experience and/or veteran employees who are looking for a deeper understanding and knowledge of banking.

Certification of The Essentials of Banking Series
Attendees are required to:
• Attend all four sessions in a calendar year
• Actively participate in all activities and exercise
• Successfully complete all assignments
• Receive a passing score on the final examination
Series registrants cannot carry over funds to the next year's four-seminar sequence. If you cannot attend one of the sessions, another individual from the bank may be sent as a replacement or that session's manual will be sent, and funds will be forfeited.