Legislative Days 32 – 35
Date posted
March 25, 2022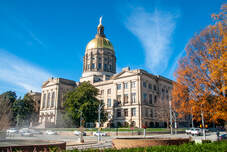 March 21, 2022 to March 25, 2022

Squabbling and Mental Health Scrutiny
There's always a level of gamesmanship and infighting within the legislative branch. Like squabbling siblings, the House and Senate will quarrel and undermine the other. This behavior comes to a head following Crossover, when one sibling is responsible for checking the other's work. Ambiguities or imperfections that went unnoticed in the first chamber are highlighted and corrected by the second. More substantive shortcomings are generally shelved for another year.

This, of course, is the natural process for a bi-cameral legislative branch. And just like siblings, the House and Senate generally sort out their differences and present a unified front before the end of the session.

One issue threatens the likelihood of cooperation. A singular focus of House Speaker David Ralston is legislation making wholesale changes to mental healthcare in Georgia. The bill is vast, focusing on insurers, workforce development, the judicial and corrections systems, and juvenile behavioral health. While it passed the House with strong bipartisan support, it has run into roadblocks in the Senate. State Troopers were called in to help maintain order in a Senate Health and Human Services Subcommittee this week as protestors rallied against the measure. The Senate's failure to advance this mental health legislation has the potential to derail the remaining five days of the 2022 session.