Advocacy Update 2023 - Legislative Days 1-4
Date posted
January 13, 2023
2023 Session Underway

The Georgia General Assembly convened for the first day of the 2023 session on Monday, January 9. The pomp and circumstance began with the swearing-in of House and Senate members elected in November, as well as the election of new leadership in both chambers. Click here for additional information (pdf) on leadership.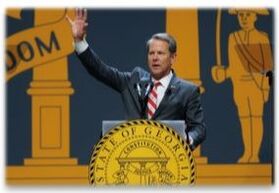 Governor Kemp and other constitutional officers were sworn in Thursday morning on the Georgia State University campus, just steps from the Capitol. Later that evening, supporters attended the inaugural gala.

Friday capped off a celebratory week for the state, but the real work begins next week. After observing the Martin Luther King, Jr. holiday on Monday, members of the House and Senate Appropriations Committees will convene for budget hearings. The legislature will next gavel in on Monday, January 23 and a deluge of bills will be introduced at that time.
---

Sen. Carden Summer Named Banking and Financial Institutions Chair

On Thursday, Lt. Governor Burt Jones released committee rosters and leadership positions for the 2023-2024 legislative session. Sen. Carden Summers (R-Cordele) has been named Chair of the Senate Banking and Financial Institutions Committee. This committee has general jurisdiction over financial institutions, real property finance, and corporate securities law.

Summers is a farmer, local business owner, and real estate broker. He was a Crisp County Commissioner for six years before seeking higher office. He won a special election in the Senate in early 2020 and secured a full term later that year. This is his first chairmanship assignment; he has not previously served on the Banking and Financial Institutions Committee.
Other notable industry assignments are as follows. The House is expected to make similar announcements next week.

---
Schedule Announced

Amid the celebrations, the House and Senate took the unprecedented step of releasing the full forty-day legislative calendar as one of their first official acts. Aside from a few exceptions, the legislature will be in session Monday through Thursday each week. Crossover Day is slated for March 6 and the final day is scheduled for March 29. These dates are subject to change as circumstances dictate.

The next legislative update will be available January 20