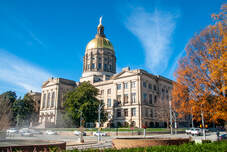 February 28, 2022 to March 4, 2022

Income Tax and Qualifying
They say the best defense is a good offense. Members of the House Republican Caucus have taken this adage to heart. Several leading legislators stood shoulder to shoulder with Speaker David Ralston on Tuesday as he unveiled a proposed $1 billion tax cut. HB 1437 calls for a flat 5.25% state income tax and more than doubles the amount of income exempt from taxation.

While the changes would not apply until the 2024 tax year, the timing of the proposal is not an accident. Next week is qualifying – a time when both incumbent lawmakers and those wishing to unseat them – journey to the Capitol to prove their residency, pay their fees, and officially enter the race. This high-profile tax reform measure may help stave off challengers and shore up support at home in fiscally conservative small-government districts.

Next week lawmakers will be active each day. Qualifying begins Monday at 9am and runs through noon on Friday. Next week's legislative report will include a separate qualifying analysis.