Chairman's Party
Join CBA as we present "Music City Nights" with a singer - songwriter evening featuring Makayla Lynn and Chuck Cannon.
MAKAYLA LYNN
Named by Rolling Stone Magazine as a new artist you need to know, Canadian
born Makayla Lynn is a fresh face exploding into the Nashville scene. She has spent time at #1 on CMT's 12 Pack Countdown and is a two-time East Coast Music Award winner in Canada. Releasing a record with Grammy Award winning producer Keith Stegall and his daughter Jen Stegall, Makayla's growth as a songwriter and music-maker through her young years has allowed her artistry to settle into it's place in the world of Country/Americana storytellers much like her influences. She has a lot of new music coming to your ears in 2023!

CHUCK CANNON
Chuck Cannon grew up in the South Carolina Low Country. He's a Southern boy whose music echoes the R&B, Rock & Roll, Country and Gospel music he grew up on. Chuck's songs have been recorded by an incredibly diverse array of recording artists from around the world and have logged over 25 million radio airplays. One of Cannon's first notable compositions was "I Love the Way You Love Me", a Number One hit for John Michael Montgomery in 1993. This song also won the Song of the Year award at the Academy of Country Music awards, which is awarded to songwriters.

| | |
| --- | --- |
| | |

Special Thanks to Our Sponsors!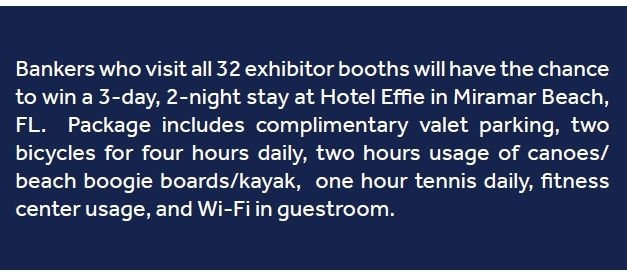 SUITCASING
Suitcasing is the act of soliciting business during the exhibit networking times or in other public spaces by non-exhibiting companies, including another company's booth or a convention center/hotel lobby. It is CBA's objective to do everything possible to protect our exhibitors and community banker attendees from suitcasing.

Call for Silent Auction Items - Come Support the Voice of Community Banks in Georgia!
Monetary Donation Donate Auction Item Browse Auction Items
---
Georgia Community Banks Well Represented at 2023 ICBA Capital Summit
"The CBA delegation had a great visit to Washington DC as part of the annual ICBA Capital Summit. The resounding message from the Georgia Congressional delegation was that the community banking industry is different from other financial services providers and clearly should not have to pay for the failures of a few large, regional banks. This recognition was shared on a bi-partisan basis as was the support for a deposit insurance carve out of the special assessment," said John McNair, President & CEO of Community Bankers Association of Georgia. "As single constituent advocates, CBA and ICBA will continue to exclusively champion the community bank message both in Atlanta and in Washington, DC."
Along with McNair, bankers making the trip to DC included: George Andrews, Unity National Bank; Scott Curry, First State Bank of Randolph County; Frank Griffin, Flint Community Bank; Stephen Lewis, First National Bank of Coffee County; Ron Quinn, Peach State Bank & Trust; Bran Thompson, South Georgia Bank, and Derek Williams, Century Bank & Trust. Special thanks to Capital Summit sponsors for their support and participation: ICBA Securities, IntraFi, James Bates Brannan Groover LLP, and Newcleus. Thanks also to FHLB Atlanta for their hospitality in DC.
---
CBA Wellness Solutions Announces First Bank Enrollment
CBA Wellness Solutions is pleased to announce its first bank enrollment into the CBA health insurance solution offered through the partnership with UnitedHealthcare and CS&O Captives.
"There is widespread interest in finding a health insurance solution that provides flexibility and cost containment. The solution from CBA addresses both" said John McNair, President & CEO, Community Bankers Association of Georgia.
Data collection for late year renewals will start in a few weeks. Please contact John directly if you have interest in learning more. Read original announcement.
---
Georgia's Newest Bank Celebrates One Year Anniversary. Get to know Donna Lott – President & CEO, Moultrie Bank & Trust
Moultrie Bank & Trust, Georgia's newest bank, opened in May 2022 and what a year it has been for bank President & CEO Donna Lott and the team. CBA sat down with Donna to learn about the bank's journey the first year and how the bank is serving their customers, shareholders and community.
"Realizing the importance of having a locally owned community bank, the founders and management team of Moultrie Bank and Trust set out to do what the "experts" thought was impossible: start a new community bank outside of a major metropolitan market. stated John McNair, President & CEO of CBA. "They are to be celebrated for making the personal and financial investment to make it happen. Along with the founders, the bank has 486 total shareholders- the vast majority being small dollar investors," continued Mr. McNair. "This is a wonderful American success story and proves that starting a new community bank outside a major metropolitan market CAN be done in a post Dodd/Frank era. I hope this story will serve as motivation for other civic minded people across Georgia and the country to do similar." Read the feature.
---
Annual Human Resources & Talent Development conference on Jekyll Island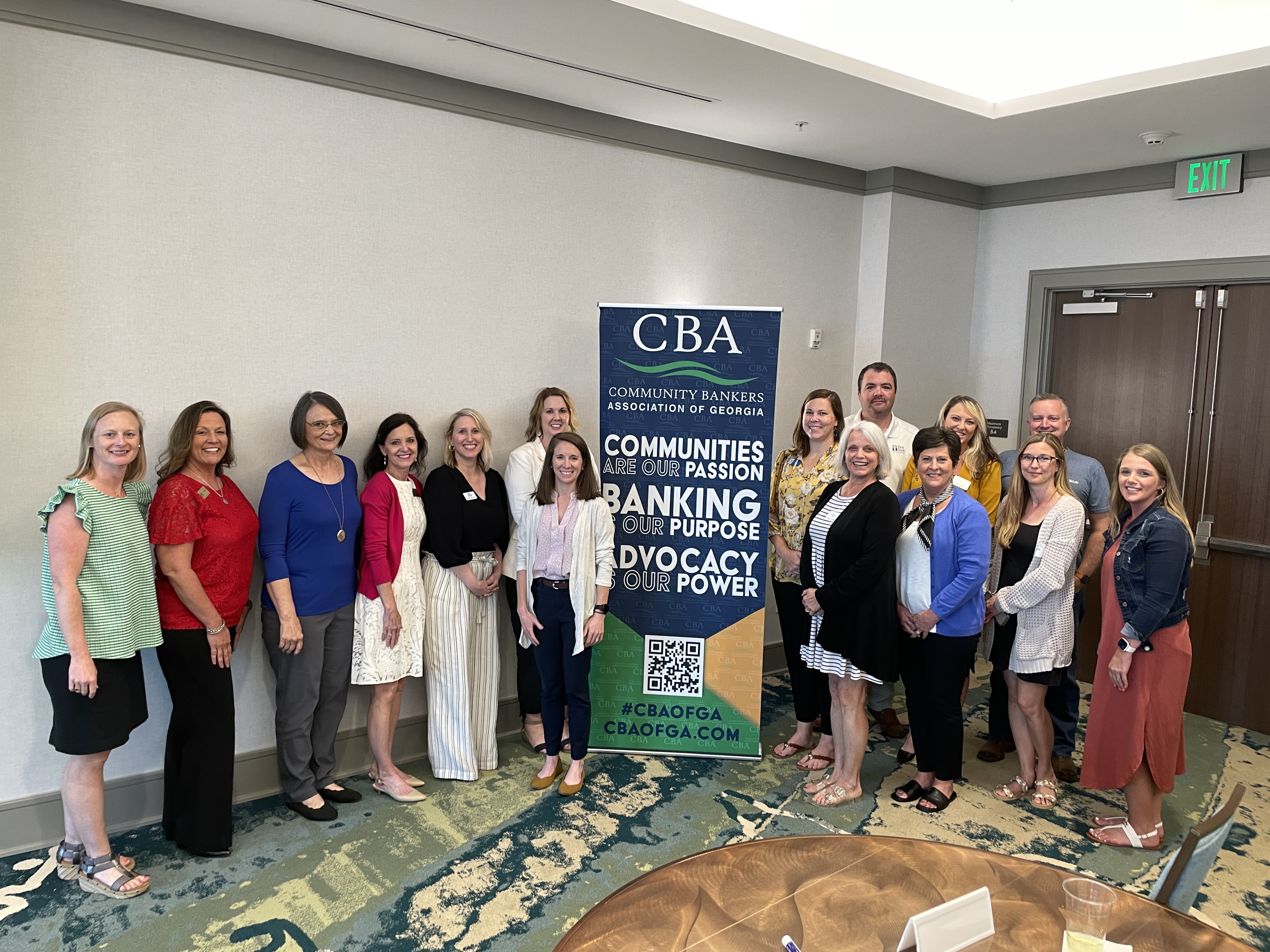 Last week, your Community Banking Association held its annual Human Resources & Talent Development conference on Jekyll Island. Each learning session allowed participants to gain valuable information to support talent strategies. Participants shared information they gained over the three days we were together which includes: statistics on the current hiring environment and best practices associated with hiring, recruiting best practices & tips, leadership development and performance management, conversations around values and the need to have a defined vision, mission and strategy for the bank; plus, we always appreciate time to discuss a variety of topics and what our peers are doing. We would like to share our appreciation with each of the conference speakers, sponsors and exhibitors who brought knowledge and resources to support our industry's employees. Dawn Ghering, FHLB of Atlanta & Julia Johnson, WIPFLI collaborated showing the connection to how defined core competencies supports performance and development. Robbie Burlas communicated CBA's enhanced wellness benefit to provide United Healthcare insurance option. A new associate member, Brian Rhonemus, Rhonemus Group sat down with our participants to share insight on ways to brand your hiring process and well as lessons learned in onboarding. We wrapped up the conference covering two more hot topics. Grant Greenwood, James-Bates-Brannan-Groover, went through details of how to maintain a safe and secure workplace. People are our asset and HR professionals know and appreciate bringing value to their most important asset, their employees. Mika Moser, At C Level shared her insights and experiences from a CEO perspective to fostering people driven cultures.
CBA's HR/TD league has an engaged group of HR professionals that are committed to their own personal growth while supporting the development of the employees within their community banks. If your bank would like more information on the league benefits, contact Kristi Greer, CBA's Adult Education Practitioner.
---
CBA Member Compass – Pay Invoices in Minutes!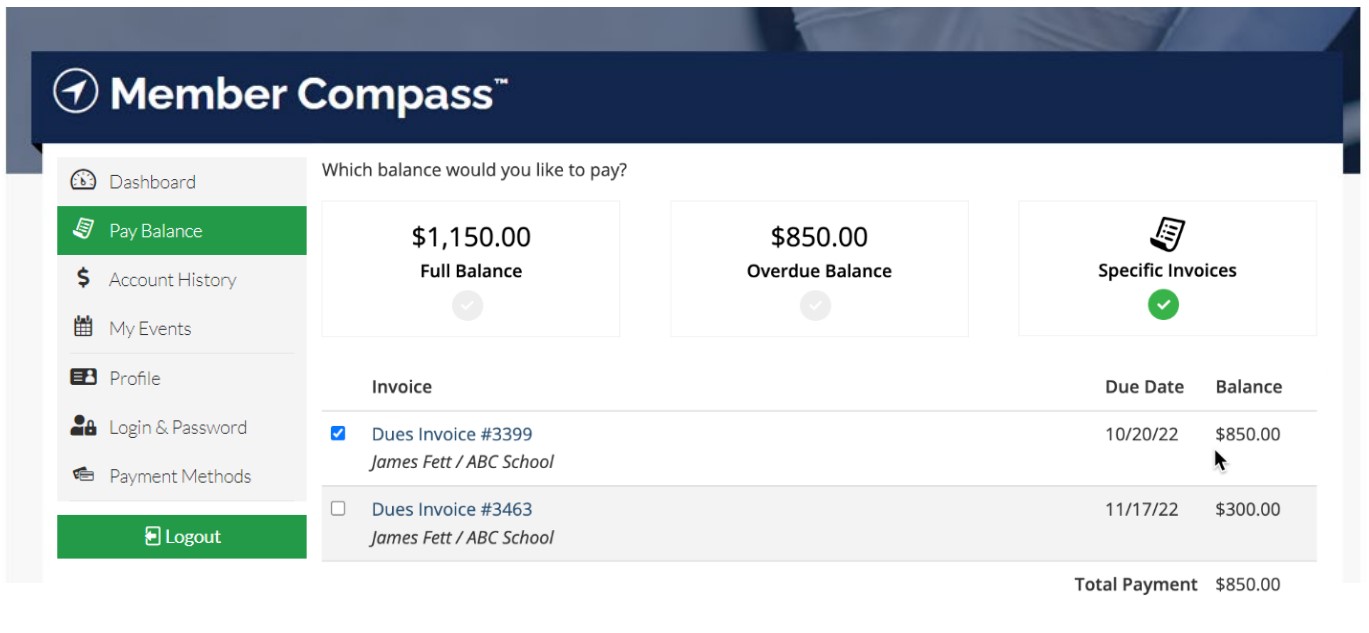 Have you checked out the new Member Compass? You can pay all invoices right from your Member Compass. Check out page 2 for the help guide below for more information.
Need Help? Check Out Our Member Compass User Guide (PDF)
---

In observance of Memorial Day, CBA will close at noon on Friday the 26th and reopen on Tuesday the 30th.
---
CBA Affiliate Education Program
Providing Additional Opportunities for Professional Development

Collaborating with ICBA gives our members even more choices to support the learning and development goals of individuals and your bank.
Check out Community Banker University Powered by ICBA.
Use State Association Code: GA-CBA when you register for ICBA education.
---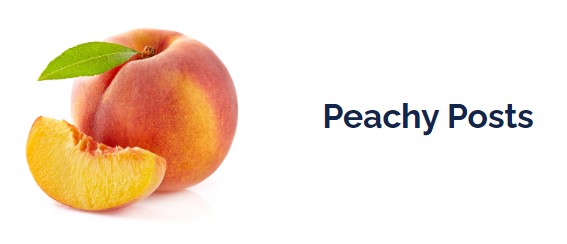 | | |
| --- | --- |
| | Apex Banking Company of Georgia, Cleveland, broke ground on a new building in Cleveland last week. Read more. |
| Oconee State Bank held a ribbon cutting for the bank's new Macon location last week. Pictured are Amy Gibson, Robby Redmond and Lesley Anne Tanner, who are heading up the Macon office. | |
| | Pineland Bank, Alma, recently held a luncheon celebrating four employees who have been in banking for 50 or more years. Lawrence Bennett, Vice-Chair, and Rod Rentz, Loan Review Officer, have each served for 50 years. Gloria Dean, Loan Department Support, and Retha Hutto, Retail Support, both celebrated 56 years. The honorees are pictured with mementos marking the anniversaries from CBA. |
---

| | |
| --- | --- |
| W.D. "Dey" Palmer IV has joined Planters First Bank as Market President for Perry. Read more. | |
| | Alexander Tharpe has joined Capital City Home Loans, St. Simons Island, as a Mortgage Consultant. |
| Pineland Bank, Alma, announces that Thomas V. Bennett, and Lorie Bennett Hyers have been elected to the South Banking Company and Pineland Bank Board of Directors during the Annual Shareholders Meeting for South Banking Company. Read more. | |
| | Jonathan Grogan has joined Piedmont Bank, Peachtree Corners, as an SBA lender. |
| Azhar Farooqui has joined First Port City Bank, Bainbridge, as Vice President and SBA Lender. | |
| | Signature Bank of Georgia, Sandy Springs, was recently ranked in the top 10 SBA 7(A) lenders in Georgia for Q1 2023 by gross loan volume. Maria Lawson leads the bank's SBA team. |
| Congratulations to Mary Boortz, Administrative Assistant, Wipfli, on her retirement on June 1, 2023, after 28 years with the company. Read more. | |
---
Live Virtual Learning: How to Generate More Profit and Add More Discipline and Consistency to Your Pricing Process
June 27 2023 | 2:00 pm
Are you 100% comfortable with the method you employ today to set rates on loans and deposits? At times, do you worry that you are just matching the competition or sometimes that your lenders are more concerned with giving the customer a good deal vs. making money for the bank? The session will cover:
Methods to establish more discipline in pricing
If I don't just match the competition, how do I win more business?
Increasing profit through a more formal pricing process
How to gain lender buy-in
---

---

---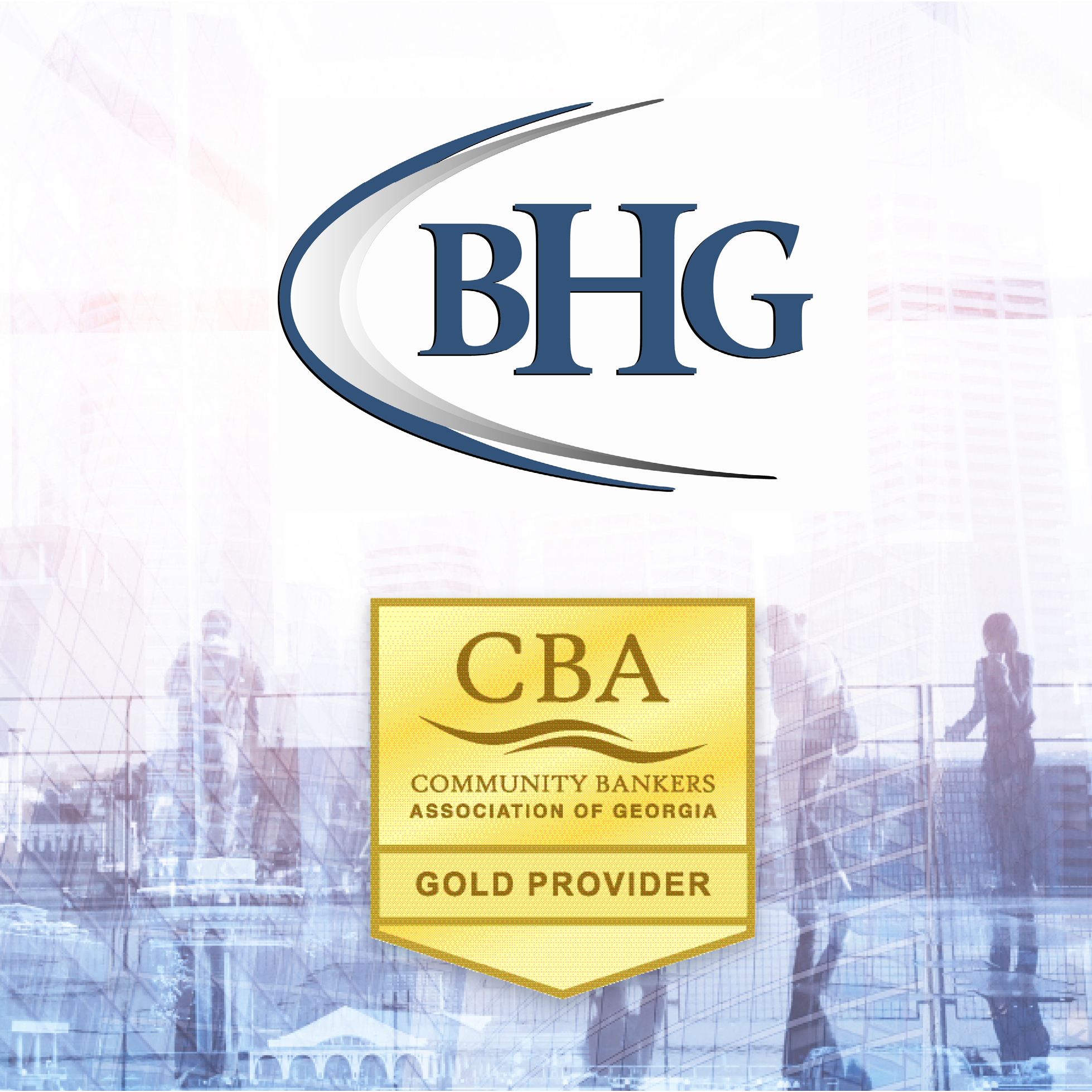 BHG Financial
Rachel Thornton
AVP, Institutional Relationships
843-251-4223
rthornton@bhg-inc.com
bhgfinancial.com
BHG is transforming the financial industry; leveraging the power of data, analytics, and cutting-edge technology to become not only the number one source for professional loans, but also the creator of the largest community bank loan and product network in the country. Since 2001, BHG has originated more than $15 billion in loan solutions to top-quality borrowers, which community and midsize banks can access via a state-of-the-art loan delivery platform.
Want to submit an article or promotion for the next newsletter?

Email the article and/or promotion that you'd like included in the next newsletter to Lindsay Greene at Lindsay@cbaofga.com. Be sure to include a press release, a short description, or a link to the full article. In addition, please include any photos or headshots.