<rssapp-carousel id="oxhqjPNSZm9mi1XC"></rssapp-carousel><script src="https://widget.rss.app/v1/carousel.js" type="text/javascript" async></script>
The Last Day to Register for Convention is TOMORROW, Thursday May 18th!
In order to provide you with the best convention experience, any registrations received after the 18th will be considered an onsite registration at an increased rate. Onsite registrants may be subject to longer wait times at check-in and may not be listed in any pre-printed items. We thank you for your understanding and can't wait to see you soon in Charleston!

Navigating the New Era of Banking

Managing key initiatives and projects to completion has never been more important. That's why we're bringing in David Noël from Genesys Technology Group to walk us through some foundational concepts that will help you thrive in the new era of banking.
The Plan for Succession & Success

Emphasize the importance of succession planning and show the steps in creating such a plan, Provide examples of successes in companies that have succession plans in place, and how those companies have a competitive advantage over others. The benefits of thoughtful succession.
Current Credit Environment; Strategic Loan Review, Stress Testing, Credit Quality & Best Practices

In this session, we'll discuss: (1) Where the hotspots and high risk areas are right now in terms of credit quality — including a review (highest to lowest) of credit risk by industry. (2) How to react to additional credit stress without overreacting. (3) The growing importance of loan reviews in the management of credit risk moving forward — taking loan reviews from merely a point-in-time event to an ongoing risk management tool. And why stress testing and loan reviews should be combined for a more effective approach.

Call for Silent Auction Items - Come Support the Voice of Community Banks in Georgia!
Monetary Donation Donate Auction Item Browse Auction Items
---
Poll Confirms Support for Community Banks as Industry Gathers in Washington

Georgia community bankers and partner firms are in Washington, DC this week telling the community bank story at the 2023 ICBA Capital Summit. Earlier this week, ICBA released a new national and state-level polling data showing Americans in all 50 states have an increasingly favorable view of community banking.
The poll was conducted by Morning Consult and found:
72% of U.S. adults said it is important to them that their bank is based in their local community, up from 69% in 2022.
89% of adults said it is important that their institution is part of the regulated banking system.
79% cited the importance of locally based lending decisions, up from 76% last year.
---
Announcing Winners of the 2023 Julian & Jan Hester Memorial Scholarship

Congratulations to the winners of the Julian and Jan Hester Memorial Scholarship, which is funded by CBA and its membership. Each year, CBA awards four $1,000 scholarships to high school seniors attending a college, university or technical school in Georgia in the fall.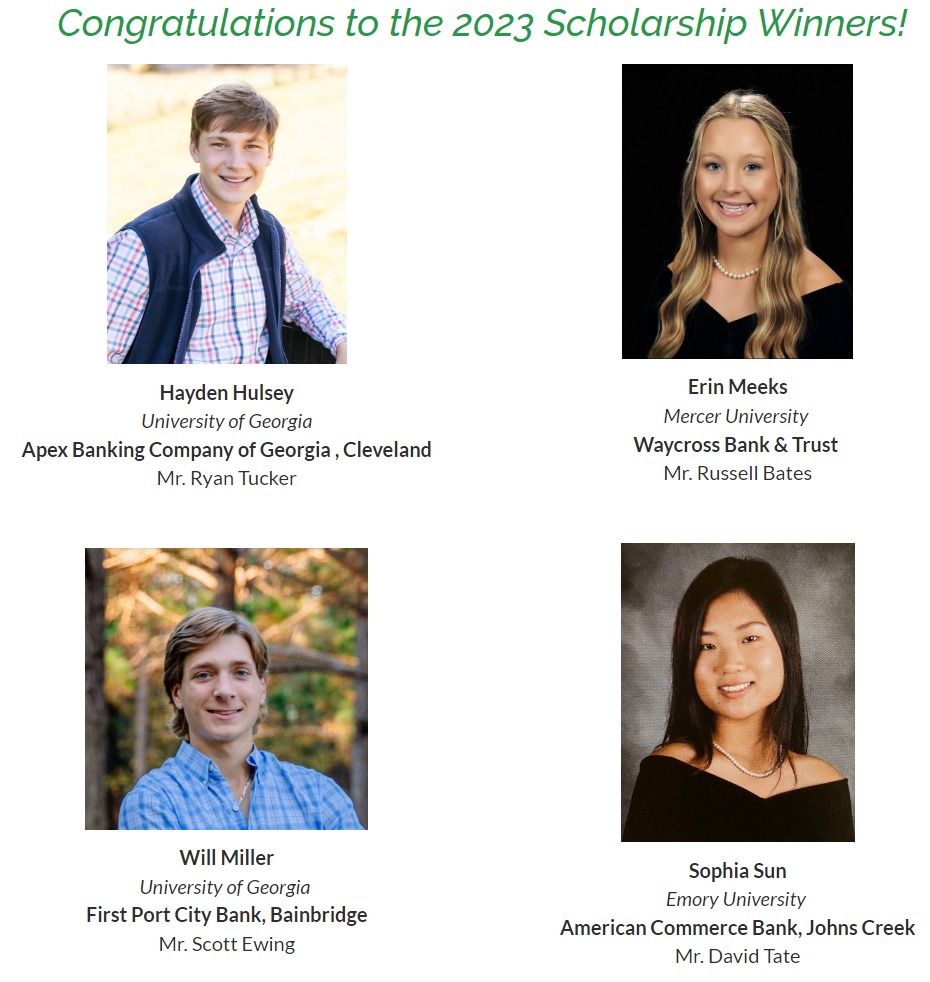 The scholarship is named for the late Jan Hester, daughter of Lalia and the late Julian Hester, long-time CEO of the CBA. To compete, students must write a short essay on the characteristics of a community bank, and the continuing benefits they offer to their home communities. Read more about the scholarship program including this year's winning essays.
---
Robert Holt Named Winner of 2023 J. Steven Walraven Scholarship

Congratulations to Robert Holt, Personal Banker at Oconee State Bank, Watkinsville, winner of the 2023 J. Steven Walraven Memorial Scholarship. Robert attends University of North Georgia and was nominated by Neil Stevens, President & CEO, Oconee State Bank, Watkinsville. Congratulations to:

The $500 scholarship is awarded to a Georgia community bank employee attending a college or university within the state of Georgia. The goal of the scholarship is to assist those employees interested in furthering their education to enhance their career in community banking. Read more about Steve Walraven and Robert's winning essay.

---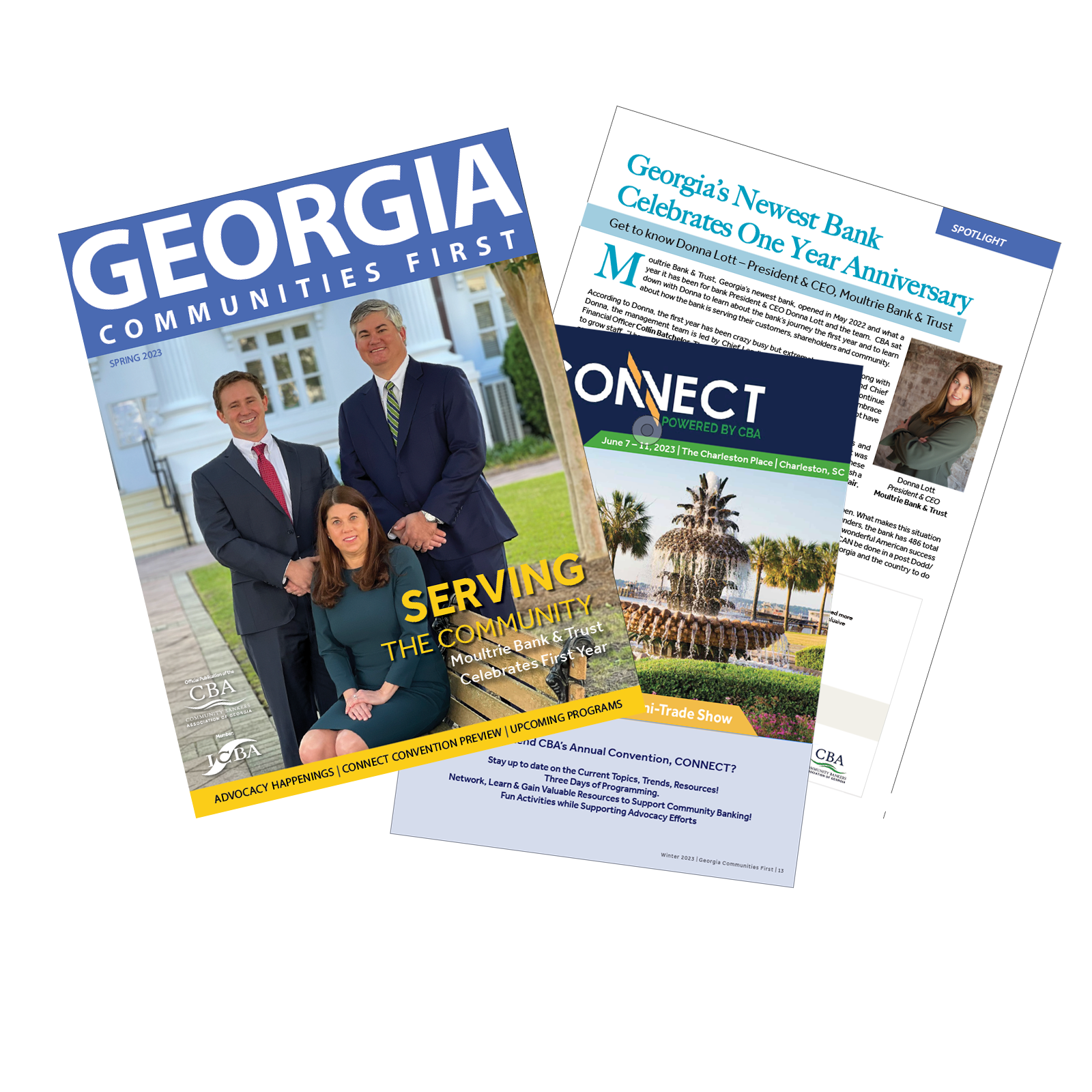 CBA Magazine: CONNECT Preview & One Year Mark Georgia's Newest Community Bank
Check out the Georgia Communities First Spring Issue for a preview of CBA's upcoming convention CONNECT, advocacy events, upcoming programs, and much more.
CBA sat down with Donna Lott, President & CEO of Moultrie Bank & Trust, to learn about the bank's journey the first year and how the bank is serving their customers, shareholders and community.
---
HR Professionals Gather on Jekyll Island
The annual Human Resources & Talent Development Conference kicked off on Monday on Jekyll Island. The action-packed agenda covers a wide variety of topics critical to the success of the entire organization. David Salters, Warren Averett, presented on recruiting and retaining talent in the post-Covid labor market and leadership coach April Farlow, shared information on organization values, communication effectiveness and setting up employees for success. Read more about the conference in next week's e-newsletter, including speakers, topics, exhibitors and CBA's new insurance program.
---
CBA Member Compass – CBA YOUR Way!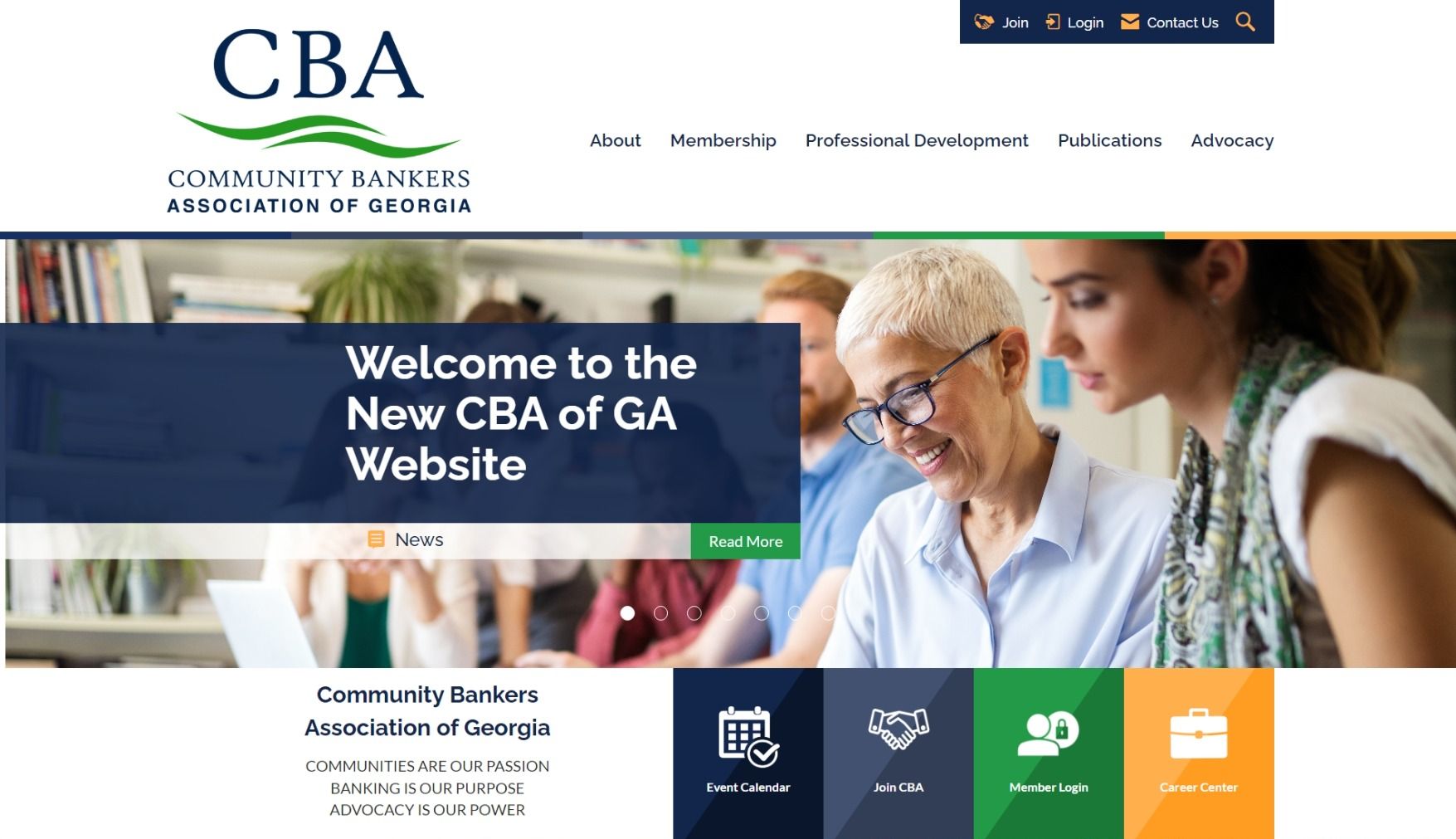 Have you checked out the new Member Compass? Simply create a login and from there you can:
Register for CBA programs and events
Update your profile
Select which emails you prefer to receive
Pay invoices
See your CBA events
View CPE Credits and more
Need Help? Check Out Our Member Compass User Guide (PDF)
---
LAST CALL FOR THE 2023 ADVOCACY TEE
The ADVOCACY Limited Edition T-Shirt!
Order By May 19th!


​Don't forget to share photos of your team in their limited edition shirts on social media #CommuniTeeBanking #CBAofGA
---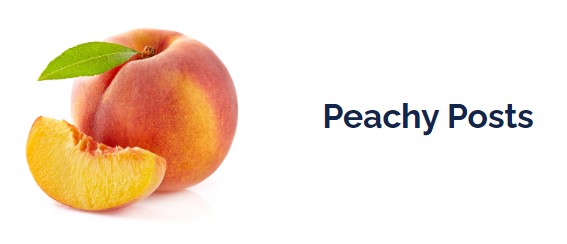 Northeast Georgia Bank, Lavonia, announced the 79th anniversary of Margaret Ayers' uninterrupted service. Margaret, a Lavonia native, began working at Northeast Georgia Bank on May 10, 1944. Pictured is Margaret with CBA's John McNair at a previous celebration. Read more.

Century Bank, Milledgeville, recently made a donation of $25,000 to local hospital Atrium Health Navicent Baldwin through the Georgia HEART Hospital program. Read more.

Exchange Bank, Lake Oconee/Milledgeville, recently made a contribution of $25,000 to St. Mary's Good Samaritan Hospital through the Georgia HEART (Helping Enhance Access to Rural Treatment) Program. Read more.

Exchange Bank, Milledgeville, awards a $1,500 scholarship to Tucker Ivey, outstanding graduating senior from Georgia Military College. Read more.

Linda James Celebrates 35 Years with Waycross Bank & Trust

Linda James celebrated her 35th anniversary with Waycross Bank & Trust on Tuesday, May 16. Pictured with Russell Bates, President & CEO, Linda was one of the first employees of WB&T and has been with WB&T since before their doors opened on June 1, 1988. Linda explains what it is like working at WB&T, "We are like a family, working to help one another and our customers, and after 35 years I am starting to see a third generation of families who bank with us, which is so rewarding. Linda's celebration kicks off the bank's 35th anniversary festivities which will continue throughout the remainder of the year.
---

| | |
| --- | --- |
| | Shawn Mercer has joined Queensborough Investments, as Vice President and Wealth Planner in the Milledgeville market. Read more. |
| Jacquelyn Walton has joined the staff of Moultrie Bank & Trust. | |
| | Madison Wilder has joined River City Bank, Rome, as a financial representative in the bank's wealth management area. Read more. (link to Word doc) |
| Rusty Slade has been promoted to Chief Operating Officer at Planters First Bank, Cordele. Read more. | |
| | Melanie Kurn has joined Signature Bank of Georgia, Sandy Springs, as Senior Vice President and Market Executive. Read more. |
| Vince Ottone has been named Senior Vice President and Market Executive at Signature Bank of Georgia, Sandy Springs. Read more. | |
| | Devon Nurre has joined Signature Bank of Georgia, Sandy Springs, as Group Vice President and Senior Portfolio and Credit Support Officer. Read more. |
| Debra Arnold has been named Assistant Vice President and Senior Commercial Loan Closer/Processor at Signature Bank of Georgia, Sandy Springs. Read more. | |
---
CBA extends our heartfelt sympathy to GA DBF Commissioner Kevin Hagler, his family and friends, on the death of his father, Roger Hagler, last week. Read more.

CBA offers condolences to family, friends and colleagues of former President and CEO of Citizens Bank & Trust, Trenton, Fred Stephens, who passed away recently. Read more.
---
CBA Advocacy Fund: Thank You!
At CBA, we must constantly build and renew relationships with legislators who understand and support community banking.
Thank you to numerous team members from American Commerce Bank, N.A., Bremen, for their generous contributions to CBA's Advocacy Fund.
Mr. Chris Acker, Ms. Tasha Deese, Ms. Trudy Eller, Ms. Jordan Griffin, Ms. Pam Hannah, Mr. Jackson Johnson, Ms. Soraya Kenney, Ms. Jackie Norton, Ms. Hayley Scott and Mr. David Tate.
---

<iframe width="800" height="605" src="https://rss.app/embed/v1/wall/uV8WLGFj8JIsfGfV" frameborder="0"></iframe>
---

---
Virtual Learning - Winning with Employee Retention Credits
May 24, 2023 | 10:30-11:30 am
Are your SMB Clients asking you about claiming the Employee Retention Credit (ERC)? Are you unsure of how ERC works, who is eligible, how your clients can access it? This webinar will address all those questions as well present how the Innovation ERC will benefit your bank by increasing deposits and earning non-interest income. Learn more and register.
---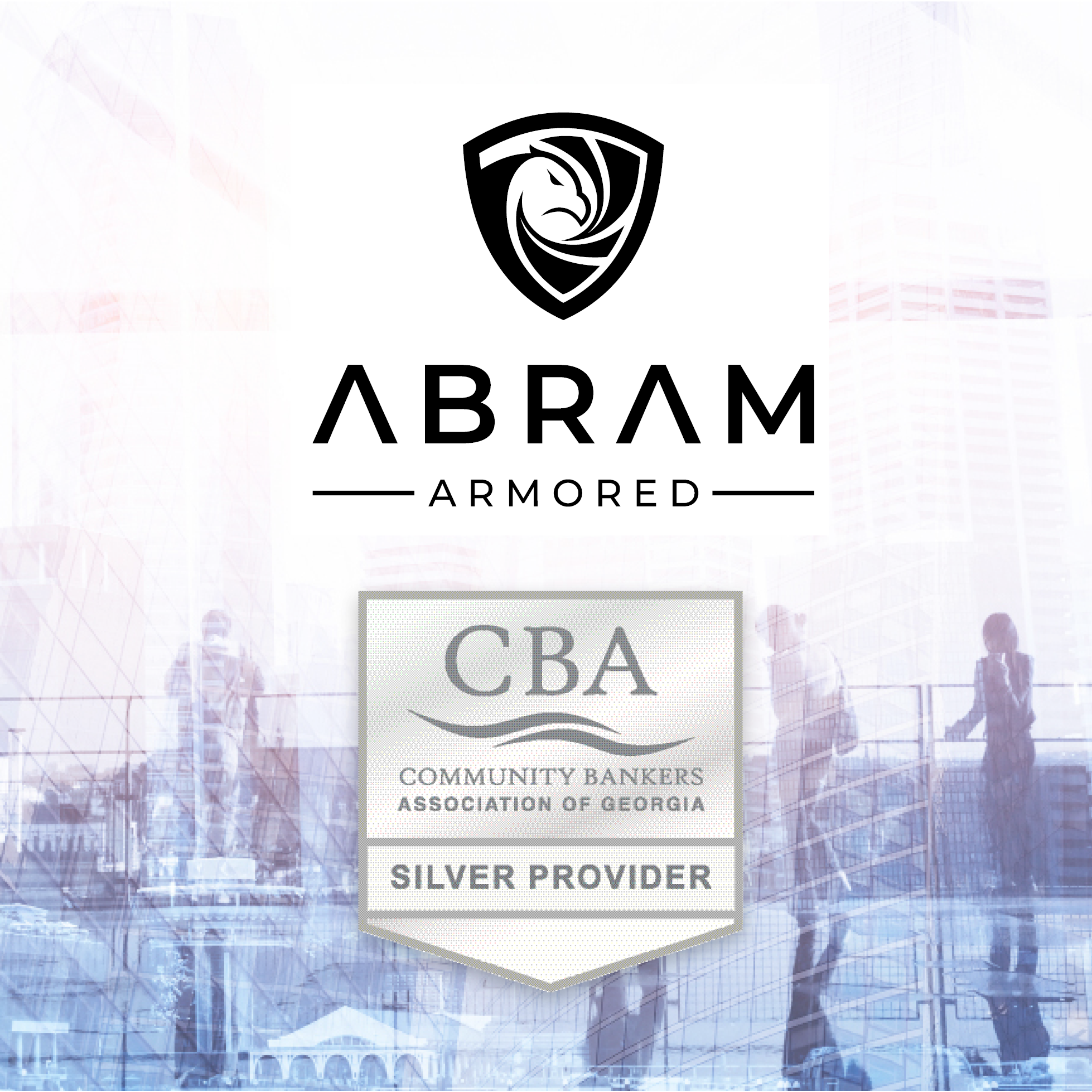 Abram Armored
Tony Webb
Founder/CEO
twebb@abramarmored.com
770-855-2989
Abram Armored is a full-service Cash in Transit company. Abram Armored provides cash courier needs for community banks including branch cash delivery/pickup; ATM/ITM balance and replenishment; and first line ATM/ITM maintenance.
Want to submit an article or promotion for the next newsletter?

Email the article and/or promotion that you'd like included in the next newsletter to Lindsay Greene at Lindsay@cbaofga.com. Be sure to include a press release, a short description, or a link to the full article. In addition, please include any photos or headshots.