<rssapp-carousel id="oxhqjPNSZm9mi1XC"></rssapp-carousel><script src="https://widget.rss.app/v1/carousel.js" type="text/javascript" async></script>
Regulator Debrief/Recap and Legal Update with Q/A

Panelist: Representatives from all our Regulatory Agencies
Moderators: Doroteya Wozniak & Mike White, James-Bates-Brannan-Groover, & Lori Godfrey, CBA of GA
Establish a dialogue with the state and federal regulators/agencies regarding their policies, procedures, and objectives. This panel will also serve as a clearing house for CBA member concerns. The regulatory agencies will cover their hot topics allowing for questions from the bankers at any time.
Why attend CBA's Annual Convention, CONNECT?
Stay up to date on the Current Topics, Trends, Resources!
Three Days of Programming.
Network, Learn & Gain Valuable Resources to Support Community Banking!
Fun Activities while Supporting Advocacy Efforts
---

Call for Silent Auction Items - Come Support the Voice of Community Banks in Georgia!
---
Another Fun Topgolf Outing in Chattanoog

a
Supporting CBA's Advocacy Efforts
The third Topgolf Showdown was held May 4th at Topgolf in Chattanooga. Bankers and partner firms gathered for golf, food, networking and competition to raise funds for CBA's Advocacy Efforts. Lori Godfrey, EVP, Government & Regulatory Relations at CBA, kicked off the tournament with a brief update on CBA's advocacy efforts.
Congratulations to the winners! Winning Team: (l-r) Shannon Henry, Bank of Dade, Ryker Goodell, STS Group with Lori Godfrey, CBA. Not pictured, Terry Rooker, CRA Partners.
1st Place – James Kalkis, Fiserv
2nd Place – Shannon Henry, Bank of Dade
3rd Place – Ryker Goodell, STS Group
---
WINSPIRE 2023 – Recharging and Growing
The Ladies of Community Banking had a great time at WINSPIRE 2023, held at the beautiful Club at Lake Sinclair. Lori Godfrey, EVP & Chief of Staff at CBA, presented a session on "Growing Graciously - Creating a Positive Work & Life Environment." Kelly Massey, Ph.D., EP-C, AHFS, AASDN-NS, Associate Professor - Exercise Science at Georgia College, shared "Fueling Your Body: Learning Opportunities to Incorporate Healthy Eating Habits During the Workday."
Following a networking lunch, Lori Godfrey lead a banker panel discussion on work/life balance and bankers included: Kim Colby, Flint Community Bank; Heather Entriken, Legacy State Bank; Linda Smith, Embassy National Bank; and Cathy Gladdin, Century Bank & Trust. The day ended with a growing your own succulent plant activity. Special thanks to our sponsors ACG; BHG Financial; Carr, Riggs & Ingram; DefenseStorm; and Profit Resources, Inc. (PRI).
<iframe src="https://www.facebook.com/plugins/post.php?href=https%3A%2F%2Fwww.facebook.com%2FCBAofGeorgia%2Fposts%2Fpfbid02yFUKmkjqXPq8zMtWeXptiueLMEkUNLCwhvGr75Sg4aCNNis8xN9gdZbfdRgDhMJjl&show_text=true&width=500" width="500" height="600" style="border:none;overflow:hidden" scrolling="no" frameborder="0" allowfullscreen="true" allow="autoplay; clipboard-write; encrypted-media; picture-in-picture; web-share"></iframe>
---
Gov. Kemp Signs Priority Legislation
On May 4, 2023, CBA's Lori Godfrey attended a bill signing ceremony for H.B. 55, which is the Department of Banking and Finance's Housekeeping bill, sponsored by Rep. Bruce Williamson (R), Monroe. The bill's effective date is July 1, 2023. The Department of Banking and Finance is expected to publish Rules and Regulations based on the changes implemented in the Housekeeping Bill prior to its effective date.
---
Scholarship Winners to be Announced Next Week
Special thanks to everyone who submitted an application to the Hester and Walraven Scholarships.
Winners will be announced next week. Thank you to the judges who served this year: Dr. Marguerite Brickman, University of Georgia, Athens; Katie Funderburke, Mauldin & Jenkins, Albany; Drew Kessler, Genesys Technology Group, Norcross; Kyle Ray, Builtwell Bank, Dalton; and Linda Smith, Embassy National Bank, Lawrenceville.
---
Launching a digital branch – Monesty Featured in National Publication
Monesty, a division of American Commerce Bank, was recently featured in Independent Banker magazine. The "digital branch" focuses on security and customer engagement.
Monesty's strategy on consumers interested in higher rates, security tools and fraud alerts. Read more about the journey.
---
Independent Banker Magazine Names Top Performing Banks
Through creativity, local knowledge and dedication to their customers, community banks continued to demonstrate the value of their relationship-based model in the past year. Independent Banker's annual listing of the Best-Performing Banks 2023 illustrates how critical it is for community banks to lean into their strengths while seeking out innovation to better serve Main Street America. Congratulations to the following Georgia community banks:
Under $300 Million:
Douglas National Bank, Douglas
$300 Million to $1 Billion:
FNB South, Alma
More than $1 Billion:
Metro City Bank, Doraville; First IC Bank, Doraville; BankSouth, Greensboro
---
CBA Member Compass – CBA YOUR Way!
Have you checked out the new Member Compass? Simply create a login and from there you can:
Register for CBA programs and events
Update your profile
Select which emails you prefer to receive
Pay invoices
See your CBA events
View CPE Credits and more
Need Help? Check Out Our Member Compass User Guide (PDF)
---
The ADVOCACY Limited Edition T-Shirt!
Order By May 19th!
CLICK HERE TO ORDER
​Don't forget to share photos of your team in their limited edition shirts on social media #CommuniTeeBanking #CBAofGA
---
CBA Invoicing is Now Sent Via QuickBooks
From now on, all CBA invoicing will come from QuickBooks. This is not a spam email, it is our new payment method. Please be sure your IT department knows that quickbooks, or quickbooks@notification.intuit.com, is a safe sender.
---

<iframe width="800" height="650" src="https://rss.app/embed/v1/wall/uV8WLGFj8JIsfGfV" frameborder="0"></iframe>

| | |
| --- | --- |
| | Ryan Tucker has been named President & CEO of Apex Banking Company of Georgia, Cleveland, a new community bank serving White County and surrounding areas coming summer 2023. Read more. |
| Chris Howe, Planters First Bank, Cordele, has been promoted to Chief Credit Officer. Read more. | |
| | Amie Jones, Planters First Bank, has been promoted to Banking Center Manager for the Perry Market. Read more. |
| Bud Edge has joined Capital City Home Loans, Marietta, as a Mortgage Consultant. | |
| | David Persson has joined Capital City Home Loans, Marietta, as a Mortgage Consultant. |
| Luke Boyd has joined BankSouth, Savannah, as a Business Development Officer and Consumer Lender. Read more. | |
| | Southern States Bancshares Inc., Anniston, AL & Atlanta has appointed current President Mark Chambers as CEO, effective April 28. Chambers, who is also the CEO of the company's banking subsidiary, Southern States Bank, will succeed Stephen Whatley, the founder and CEO of the company, who is retiring. Whatley will also retire from his position as chairman of the boards of the company and Southern States Bank. J. Henry Smith IV, who previously served as lead director, will replace Whatley on each board. Read more. |
---

---
Virtual Learning - Winning with Employee Retention Credits
May 24, 2023 | 10:30-11:30 am
Are your SMB Clients asking you about claiming the Employee Retention Credit (ERC)? Are you unsure of how ERC works, who is eligible, how your clients can access it? This webinar will address all those questions as well present how the Innovation ERC will benefit your bank by increasing deposits and earning non-interest income. Learn more and register.
---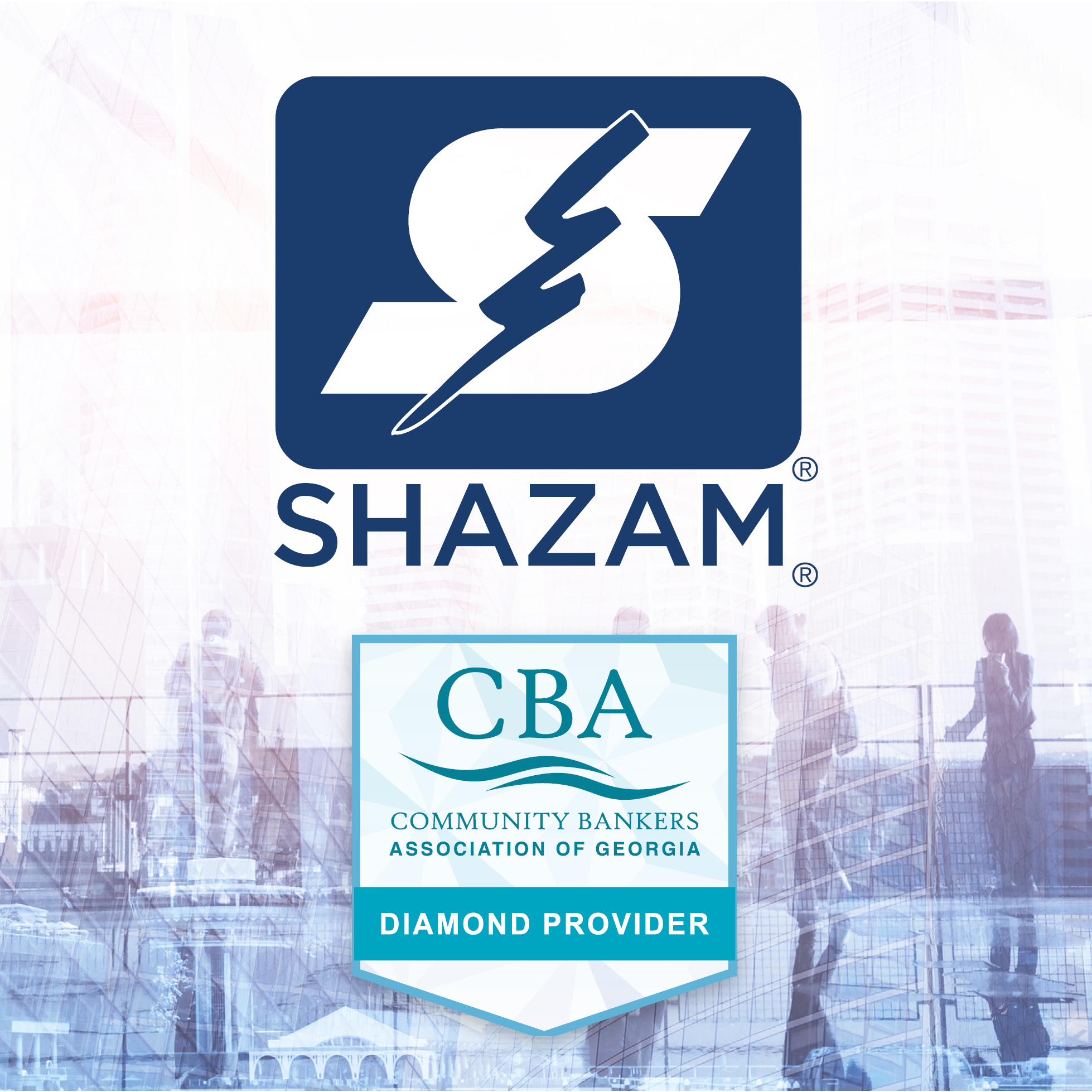 SHAZAM - Diamond
Alex Jernigan
Regional Director of Sales
jjernig@shazam.net
229-861-3802
www.shazam.net
SHAZAM is a national member-owned debit network, processor and core provider. Founded in 1976, SHAZAM delivers choice and flexibility to community financial institutions throughout the U.S. and is a single-source provider of the following services: credit card, debit card, core, fraud, ATM, merchant, marketing, training, risk and ACH.
Want to submit an article or promotion for the next newsletter?

Email the article and/or promotion that you'd like included in the next newsletter to Lindsay Greene at Lindsay@cbaofga.com. Be sure to include a press release, a short description, or a link to the full article. In addition, please include any photos or headshots.